Valorant Ranks
Below is an image of all the known Valorant Ranks in the game, and each rank has 3 Tiers, with the highest Rank Being Valorant and only has just one.
This is an explanation on how the Valorant Ranking System will work.
Complete 20 Unrated matches to unlock Competitive mode
8 ranks, 3 tiers each, except the top rank, VALORANT
Queue with up to 5-player parties, must be within 2 ranks
Rank isn't displayed if competitive matches aren't played within 14 days, but your rank doesn't decay behind the scenes.
Closed beta rank does not carry over to launch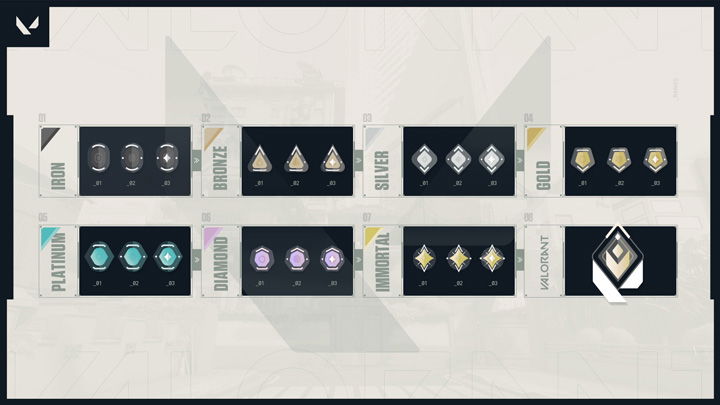 Iron | I – II – III
Bronze | I – II – III
Silver | I – II – III
Gold | I – II – III
Platinum | I – II – III
Diamond | I – II – III
Immortal | I – II – III
Valorant
At the moment it is still unknown whether there will be Season Rewards based on your current Rank in the game, but like with most RIOT games, there is a good chance they will have something for the player to receive as a Reward at the end of the season closer to the release of the game. These could be in the form of Weapon or Character Skins and maybe even some Account Flair, we will just have to wait and see. We will keep this page updated if any new information becomes available.
During Beta players will have a chance to earn Beta Exclusive Rewards.