Welcome to our Best Attacker Tier List for Valorant, here will we rank the Best Agents for planting spikes. We also have a Best attacking Team Comp Tier List, so you can use a combination of agents that will make planting a spike much easier.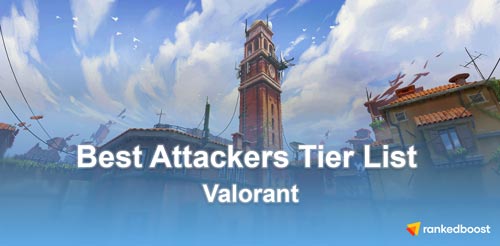 Valorant Best Agents For Attacking
When you players a game of valorant at some point, you will have to play offensive and take control of the site, plant the Spike, and defend until detonation. We recommend using the Agents we rank highly or at least be willing to buy a weapon for a player who is using a high ranked Attacker Agent so that they can better perform what they need to do for a successful spike plant.
Valorant Best Attackers Tier List Explanation
S Tier – (Best) Highest ranking Agent in our Valorant Spike Planting Tier List.
A Tier – (Strong) Very strong pick, but not as good as S Tier Choices.
B Tier – (Good) Solid choice and can be viable in the right situation.
C Tier – (Average) The middle of the pack neither good nor bad.
You can quickly navigate between Tier Lists using the links above.

You can Click/Tap any image below to view the complete guide of information.
Viper
Cypher
Valorant Best Team Comps for Planting Spikes
If you are lucky enough to find yourself a squad or even just some players who want to win, then using one of the high ranking Team Comps for Planting Spikes below will give you the best results. Using a particular combination of Agents will make your team very powerful when trying to take over the site so that you can plant the spike to win the game. Below we have what we consider to be the Best Team Comps for Site Attacking. Feel free to adjust any comp as needed to fit you and your friend's preferences.
You can Click/Tap any image below to view the complete guide of information.