Welcome to our Pokemon GO Generation 2 Tier List, The best and worst ranked using only Gen 2 Pokemon MAX CP Stats. Prepare yourself for the new Update that will bring 100 new characters and 87 new moves to the game. We also have included a TOP 10 List of the strongest Second Generation Pokemon.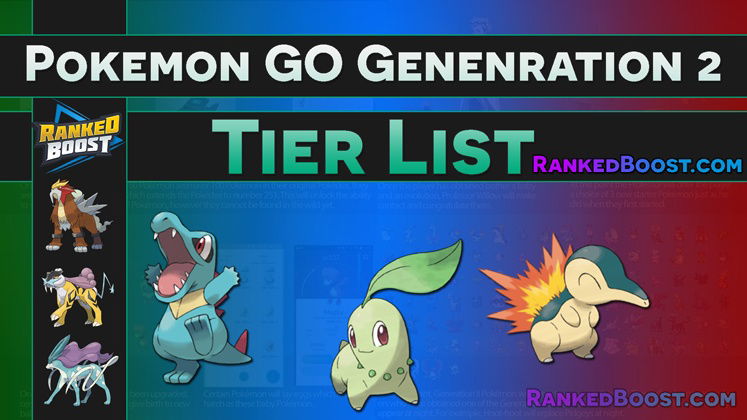 GOD TIER = BEST
TIER 3 = WORST
(THE POKEMON GO GEN 2 MAX CP STATS PROVIDED IN THIS POGO TIER LIST ARE BASED ON THE POKEMON GOLD, SILVER & CRYSTAL GAMES)
The TOP 10 Pokemon Gen 2 GO MAX CP Pokemon, with additional stat information. The Second Generation Legendary Pokemon are not ranked within this TOP 10 since they will likely not be available at the start.
Best Gym Defenders

Best Gym Attackers

Below is the Pokemon GO Gen 2 Tier List, sorted by the estimated second generation MAX CP stats.
(Tap the Name/Image to view more information.)
GOD TIER
God Tier | These are the Best Gen 2 Pokemon due to their high MAX CP. You will mostly find Legendaries and Tyranitar, who is shaping up to be stronger than Dragonite.
TIER 1
Tier 1 | These choices are very strong among the Best Gen 2 Pokemon GO Tier List, TIER 1 will have many of the strongest mons you will find in the second generation update.

TIER 2
Tier 2 | These are average second generation pokemon with low Gen 2 MAX CP Chart Stats. Tier 2 host some useful and strong choices when used in the correct match ups.

TIER 3
Tier 3 | These mons have the Weakest Pokemon GO Generation 2 MAX CP Stats, very unlikely to see these used for Gym Defending or Attacking.

Pokemon GO Gen 2 MAX CP Egg Chart