This is our list of the Shops and Facilities in Animal Crossing New Horizons, in this list, you will learn what Facilities are, what you can do with them, why they are essential, and how to unlock them. Unlocking Shops have changed from game to game in different ways, but one thing is for sure is that they take time to be built.
You can quickly navigate this Shop & Facilities Guide using the shortcuts above.
What are shops and facilities?
Shops in Animal Crossing are places where you can buy things you can't get anywhere else, if you want clothing you want to go to the shop Able Sisters, if you need furniture and tools you want to go to Nook's Cranny, etc.
Depending on the game, the shops themselves can be upgraded over time just by shopping there or influencing them yourself; its important to do those things since it would often increase the items on display and the quantity you can receive.
How To Unlock The Museum in ACNH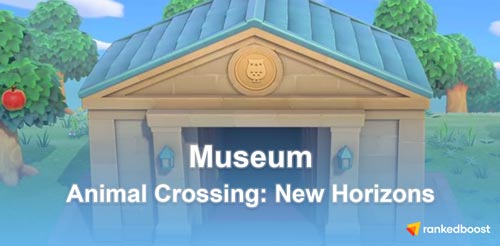 Blather's Museum is a place where you can donate Fossils, Bugs, and Fish. It's just a place to archive what you have caught while having a comfortable and beautiful place to walk around and observe them in. It is one of the first buildings you will unlock on the island. You can get Blathers to appear by donating five bugs or fish to Tom Nook. You should be able to do this on your first day.
Donate five fish or bugs to Tom Nook.

Tom Nook will ask you to place a tent down for Blathers. (T

his is the Museum, make sure you put it where you want it since you won't be able to move it until much later in the game. Moving already built buildings will take 50,000 bells.

)

Once you place down the tent, the next day, Blathers should have his tent in the spot you picked out. Enter his tent and speak with him, Blathers will ask you for 15 more donations. (Once you have donated that number, he will not take any more donations. You will now have to wait two days while the Museum is being built.

)

On day four, the Museum should be built.
How to upgrade the Museum
When speaking to Blathers (After the 1.2.0 update, and after donating 60 of anything to the Museum) he will explain he wants to open an entire museum, meaning he wants an art gallery as well. He will begin taking art donations, and it's your job to find some art. Here are the steps to upgrading the Museum.
Donated around 

60

 of any donation. (

Bugs

, 

Fish

, and 

Fossils this also includes the donations you gave Tom Nook and Blathers before the Museum was built

)

The next day speak to Redd (You will hear during the Daily announcement from Isabelle that there is a suspicious person selling things in the neighboring Islands, he will be somewhere along the beaches of your Island)

Buy the painting Redd offers you (This one is always real)

Donate it to Blathers (Blathers will now begin the process for upgrading the Museum)

It will take an entire day to construct
How To Unlock Nook's Cranny in ACNH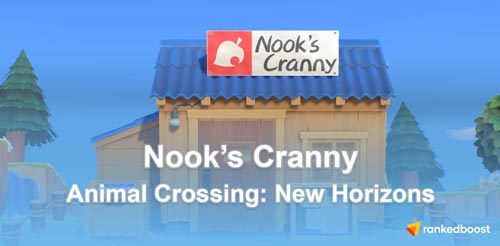 Nook's Cranny is one of the first shops built on your island, and it is a general store where you can buy already made furniture, you can sell your crafted furniture or anything else you might have. They rotate their stock of items each day and allow you to sell "Hot Items," which are items that sell for double the price that day. They also allow you to put items into a box outside to sell things without having to wait until their shop opens. To unlock this Facility, you will need to pay off your initial loan.
Pay off your getaway package of 5,000 Nook Miles.

Talk to Tom Nook to upgrade your house and wait until your home is complete.

Enter the resident services building and speak to Timmy, he will ask you to bring him supplies for his new shop, he will ask for 

30 of each material

, Wood, Softwood, Hardwood, and Iron Nuggets. (These might take a while to acquire, you might need to gather supplies over a couple of days time, you can speed up this process by going on mystery island tours for more materials. 

How to Gather Materials

)

Once you have given Timmy all of the resources he asked for, he will give you a building plot for Nook's Cranny, and you will now be able to place where you want it placed down. After a day of building, Nook's Cranny should be open for business.
The Drop-Off Box in front of their store will buy items for 80% of their normal price. I recommend selling your items to Timmy and Tommy directly.
How To Upgrade Nook's Cranny
Upgrading Nook's Cranny can take some time and can happen mostly without you intervening. We are not 100% certain that these steps are the conditions to unlock Nook's Cranny, but from our experience, this could've had a role in upgrading the shop, here are the steps that we believe allow you to improve Nook's Cranny.
Play for at least 30 days after Nook's Cranny has been built. (If you are Time Traveling, make sure you do it one day at a time.)

Have Upgraded Resident Services into a Building.

Made sure Mabel had visited your Island. (If you see her in front of Resident Services Building, make sure you speak to her again just in case.)

Have sold or purchased 200,000 thousands worth of Bells in Nook's Cranny. (All the bugs and fish you sell, are included in this, this is not hard to do at all if you are trying to make money or buying everything in the shop.)

One day you will start up the game, Isabelle will tell you that Nook's Cranny is going to be upgraded. (The board out front of Resident Services should also tell you which day they will be closed.)
When they close for the day to upgrade, it will take one day to complete, and during that time, you will NOT be able to sell Turnips or use the box out front.
How To Unlock The Able Sisters in ACNH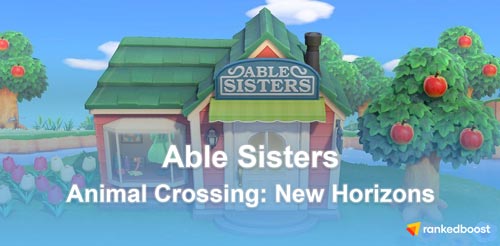 The Able Sisters shop is a dedicated clothing and accessory shop. Here you will be able to buy and customize clothing and even try them on before purchase. To unlock their shop, you will first need to have helped Timmy and Tommy with opening their store.
Once Nook's Cranny has opened, you can enter the shop and find Mable talking to Timmy and Tommy, you will then find out that they want her to sell her wares on the island.

From now on, you should see Mable in the Plaza below Resident Services on random days of the week, and when you speak with her she will sell you clothing, be mindful you can not try it on before purchasing and there isn't much to buy.

If you buy over 5,000 bells worth of items from her, she will tell you that she wants to build a shop here and will give you a building plot to place where you want her shop to be. The next day the Able Sister's Shop should be open from then on.
How To Upgrade Residence Services Building in ACNH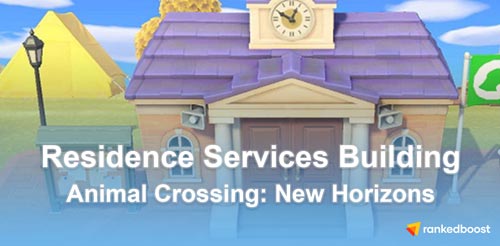 The Residence Services Building is the tent in the central plaza of the island. It offers very little in the beginning, a terminal to access Nook Miles and Nook Miles Rewards, a place to craft DIY furniture and a Recycling Bin. (At the very beginning, you could buy and sell items to Timmy before building their shop.) To upgrade the building, you will have needed to pay off your getaway package and upgraded to a house.
After you have built Nook's Cranny, Tom Nook will ask you to place a bridge down. after that, you will choose where to put three house plots on the island. (These plots can be built anywhere.) You then will need to check the sign on them and find what furniture you need to craft for the interior and exterior.

Once completed, one villager will move in every day until those three houses are filled.

When those houses are filled, Tom Nook will announce that the residence services building will be upgrading, which will take a day. (The Terminal and Recycling Bin can not be accessed during this time.)

When the building is complete, Hourly Music will begin playing, and the default tune will also play when speaking to villagers.
Isabelle will now be joining Tom Nook in the building, you can speak to either of them for more options on your island (You can talk to Isabelle to change the Town Tune and Flag.), and there will be more options on the Terminal for Nook Miles. You can speak to Tom Nook if you want to build more bridges, slopes, and you can also pay to reserve plots for villagers and even move buildings around. (For a fee.)
How To Unlock The Campground in ACNH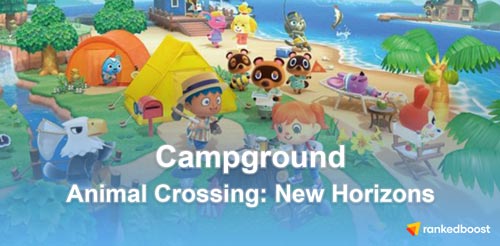 The Campground is an area you can create that allows villagers to visit you, from here to can ask them to move into your town or speak with them and trade with them. To begin creating the Campground, you will have first needed to upgrade the Residence Services Building, and Tom Nook will then ask you to build this Campground to get more villagers for the island.
Once the Residence Services building is built, you will need to build the Campground Construction Kit, which requires 15 of each type of wood, and 15 Iron Nuggets. Then you can place down the kit down where ever you want the Campground to be.

The next day a random villager is very likely to show up. From here, you can invite them to your island, and villagers will now randomly appear in the campsite, and you can choose to try to convince them to move onto the island.
You can use Amiibo cards to invite a specific villager into the campsite.
How To Unlock Harvey's Island in ACNH
Harvey's Island is a place where you can use Amiibo Cards to take pictures of characters and pose them in different ways. You can scan Amiibo to get posters of different characters, which you can purchase for 1,000 Bells.
First you need to convince three villagers to move to your island, and fully set up their homes.
Harvey will show up around your island and when you speak with him he will invite you to his island.
Go to Dodo Airlines and speak to Orville tell him to want to fly and ask to go to Harvey's Island. You will then be on your way to Photopia.
How To Unlock Jolly Redd's Treasure Trawler in ACNH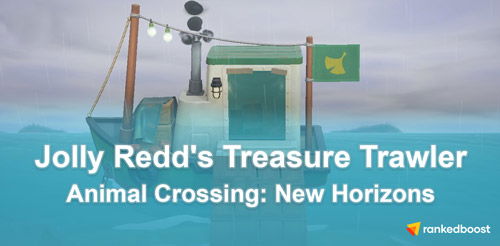 Redd's Treasure Trawler is essentially a shop just placed on a boat; here, there are shady dealings of fake Artwork such as "Paintings" and "Statues" being sold there. If that interests you, here are the steps to unlocking Redd's Shop.
As of update 1.2.0, you need to speak to Blathers, he will say he wants to upgrade the Museum and needs Artwork to display there.

The next day Isabelle will say a suspicious person is wandering around (That Suspicious person is Redd, he can be found wandering around your beach)

Buy the painting he offers you (This one is always genuine)

The Museum will upgrade the following day.

On the day the Museum is completed, you will find Redd somewhere wandering around your Island, speak to him.

After you talk to him, he will allow you to enter his boat, and from there, you can buy art from him and will periodically appear there.
His boat is found at the Secluded Beach on your Island. You will need a ladder to get to it. If he appears there for the day, you will see it on your Minimap. (The Secluded Beach is the mini beach on your map surrounded by rocks, it is generally on the north side of your Island.)