This is our list on all of the villagers in Animal Crossing New Horizons in this list you will learn what villagers do, why they are important, their birthdays, and what their personalities mean.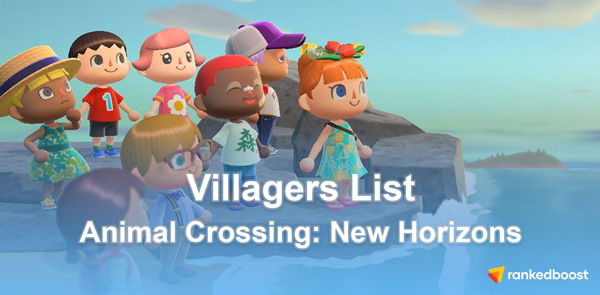 What are Villagers
Villagers are sentient animals that wander around your island that you can befriend and live alongside. Each villager has a set personality that affects the way they speak, act, and even when they wake up for the day, it also affects the other villagers around them.
The kind of personalities your villagers can have are as follows.
Male Personalities
Cranky (These villagers can be rude and don't get along well with villagers who are loud and energetic, for example, Snooty, Smug, Uchi, and Peppy.)
Jock (They tend to focus a lot on working out and staying fit, and because of this they don't get along well with Lazy, Snooty and Cranky Villagers.)
Lazy (Their interests are sitting around eating food and being lazy, they won't get along with Jock and Snooty Villagers because of this.)
Smug (Smug villagers like to boast about themselves, they don't get along with Cranky and Uchi Villagers.)
Female Personalities
Normal (They don't have very strong opinions and tend to be rather kind, they tend not to get along with Cranky Villagers.)
Peppy (Peppy villagers often overly energetic. Thus, they don't get along with Cranky and Snooty Villagers.)
Snooty (These Villagers are rather arrogant, and don't get along with Cranky, Lazy, and Jock Villagers.)
Sisterly (Uchi means "Big Sister" in Japanese, they are rather blunt but get along with almost everyone, but have problems with Cranky Villagers.)
You start with two Villagers on your Island, and they can only be Jock or Uchi Villagers.
Villagers have individual birthdays, on these dates they throw a birthday party and invite a couple of villagers to party with them, during that day you want to visit them and bring them a gift they might like. It helps raise friendship between you.
What is friendship
Friendship can be raised slowly over time by just talking to your villagers, sending them letters, and doing errands for them. Once you are high enough friendship with them, they might speak more kindly to you and possibly give you gifts.
Villagers will move away if you do not keep them happy, ways you can keep them happy are;
Write them letters
Talk to them
Do errands for them
Go to their birthday party
If your Villager is troubled or even thinking of moving away, they will have a cloud above their heads, if you don't want them to leave or if you are worried about them, speak with them.
How to invite Villagers
You can invite Villagers to move onto your island in these ways.
Island Mystery Tours (Speak to a Villager you find on the island twice and ask them to move to your island)

Campsite (After you turn the tent into a Resident Services building if you speak to Tom Nook he will ask you where to build the Campsite. You can choose which Villagers appear by using Amiibo Cards)
Once the Resident Services building is built, you can ask Tom Nook about where you can place the land plots for your Villagers. It will cost you 10,000 bells, but you will get Nook Miles after a Villager moves into that plot.
How to make Villagers leave
If you do not like your villager and wish to get rid of them, here are ways to make them leave;
Don't Speak to them (They will feel like they are not wanted anymore and will decide to go)

Personal Cloud (This cloud will appear if they have a problem or if they are considering leaving, you can speak to them and tell them to go, but it is best to let them be and let them go on their own)

Tell them to leave (Sometimes a Villager will come to you out of nowhere to tell you that they want to go, in this situation ask them to leave)
List of Villagers in Animal Crossing New Horizons
Below is a list of all Villagers found in ACNH along with their Personality, Birthday, and their Species.
Click/Tap the buttons to navigate the Species
List of all Alligator Species
List of all Anteater Species
List of all Bear Species
List of all Bird Species
List of all Bull Species
List of all Cat Species
List of all Chicken Species
List of all Cow Species
List of all Cub Species
List of all Deer Species
List of all Dog Species
List of all Duck Species
List of all Eagle Species
List of all Elephant Species
List of all Frog Species
List of all Goat Species
List of all Gorilla Species
List of all Hamster Species
List of all Hippo Species
List of all Horse Species
List of all Kangaroo Species
List of all Koala Species
List of all Lion Species
List of all Monkey Species
List of all Mouse Species
List of all Octopus Species
List of all Ostrich Species
List of all Penguin Species
List of all Pig Species
List of all Rabbit Species
List of all Rhino Species
List of all Sheep Species
List of all Squirrel Species
List of all Tiger Species
List of all Wolf Species