Welcome to our Animal Crossing New Horizons Nook Miles guide. In this guide, you will learn more about the Nook Mileage program and all the benefits.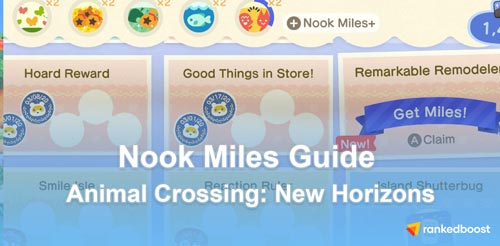 Things that you can purchase with your Nook Miles.
Tour of the mystery islands.
Recipes for better tools.
Tool Ring (radial menu for your tools)
Hairstyles and colors.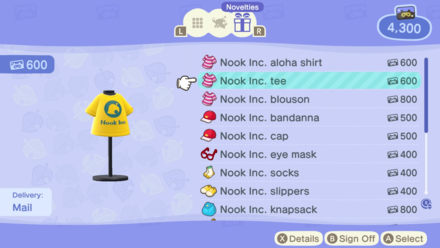 How to get Nook Miles in Animal Crossing New Horizons
You must unlock nook miles as soon as possible. Nook Miles are used as a currency that will allow you to buy recipes that are used to craft better tools and upgrade your inventory slots you will also get access to Nook Inc items. Below we will explain how to get you collecting Nook Miles right away in ACNH.
Talk with Tom Nook to receive the Nookphone.
Once you have the Nookphone open the Nook Miles app.
Upon opening the app, will you receive 500 Nook Miles and the Title Nook Inc's, Patron.
After you have completed that start on your cards that you can access via the Nook Miles app. cards have a task that you can complete for Nook Miles and Titles, for example (speak with all the villagers of the island in one day). Remember everything you do can earn you Nook Miles, for example (using tools until it breaks, pulling weeds, digging up fossils).
How To Get Nook Miles Rewards List
Below is a list of daily Nook Mile+ Rewards and juts below that is an even bigger chart of regular Nook Miles Rewards List. Here you can see what you have to do to unlock more nook miles to spend on DIY Recpies, Tool Ring and other useful things in Animal Crossing New Horizons.
| Task Name | Requirements | Rewards | Title One | Title Two |
| --- | --- | --- | --- | --- |
| (Town Name) Miles! | Unlock Nook Miles | 500 | Nook Inc.'s | Patron |
| Angling for Perfection 1 | Catch 10 fish | 300 | Accomplished | Lad/Lass |
| Angling for Perfection 2 | Catch 100 fish | 500 | Competant | Fishing Fan |
| Angling for Perfection 3 | Catch 500 fish | 1,000 | Moderate | Beach Bum |
| Angling for Perfection 4 | Catch 2,000 fish | 2,000 | Fierce | Fisher |
| Angling for Perfection 5 | Catch 5,000 fish | | | |
| Island Ichthyologist 1 | Catch 10 unique fish | 300 | Small-Fry | Pesca Pro |
| Island Ichthyologist 2 | Catch 20 unique fish | 500 | Energetic | Angler |
| Island Ichthyologist 3 | Catch 40 unique fish | 1,000 | Pond-Raised | Tropical Fish |
| Island Ichthyologist 4 | Catch 60 unique fish | 2,000 | Hooked | Reaction |
| Island Ichthyologist 5 | Catch 80 unique fish | | | |
| Island Togetherness 1 | Talk to your all your neighbors one day | 300 | Unhindered | Wallflower |
| Island Togetherness 2 | Talk to all your neighbors for 10 days | 500 | Unabashedly | Shy Kid |
| Island Togetherness 3 | Talk to all your neighbors for 20 days | 1,000 | Respected | One |
| Island Togetherness 4 | Talk to all your neighbors for 30 days | | | |
| Island Togetherness 5 | | | | |
| You've Got the Bug 1 | Catch 10 bugs | 300 | Freshly Delivered | Egg |
| You've Got the Bug 2 | Catch 100 bugs | 500 | Weak | Grub |
| You've Got the Bug 3 | Catch 500 bugs | 1,000 | Emerging | Pupa |
| You've Got the Bug 4 | Catch 2,000 bugs | 2,000 | | |
| You've Got the Bug 5 | Catch 5,000 bugs | | | |
| Bugs Don't Bug Me 1 | Catch 10 unique bugs | 300 | Hobby-Level | Bug Fan |
| Bugs Don't Bug Me 2 | Catch 20 unique bugs | 500 | Night-Owl | Insect |
| Bugs Don't Bug Me 3 | Catch 40 unique bugs | 1,000 | | |
| Bugs Don't Bug Me 4 | Catch 60 unique bugs | 2,000 | Polymorphing | Creature |
| Bugs Don't Bug Me 5 | Catch 80 unique bugs | | | |
| Have a Nice DIY! 1 | Collect 10 DIY Recipes | 300 | Trivia | Representative |
| Have a Nice DIY! 2 | Collect 50 DIY Recipes | 500 | Savvy | Intellectual |
| Have a Nice DIY! 3 | Collect 100 DIY Recipes | 1,000 | Understated | Authority |
| Have a Nice DIY! 4 | Collect 150 DIY Recipes | 2,000 | Knowledge-Thirsty | Sidekick |
| Have a Nice DIY! 5 | Collect 200 DIY Recipes | 3,000 | Clever | Father/Mother |
| DIY Tools 1 | Craft 5 tools | 300 | Creative | Enthusiast |
| DIY Tools 2 | Craft 50 tools | 500 | Crafty | Club Member |
| DIY Tools 3 | Craft 200 tools | 1,000 | Hip | Virtuoso |
| DIY Tools 4 | Craft 1,000 tools | | | |
| DIY Tools 5 | | | | |
| DIY Furniture 1 | Craft 5 furniture | 300 | Handmade | Resident |
| DIY Furniture 2 | Craft 50 furniture | 500 | Emergent | Artisan |
| DIY Furniture 3 | Craft 200 furniture | | | |
| DIY Furniture 4 | | | | |
| DIY Furniture 5 | | | | |
| Furniture Freshener 1 | Customize 5 furniture | 300 | Unique | Eccentric |
| Furniture Freshener 2 | Customize 20 furniture | 500 | Change-it-Up | Challenger |
| Furniture Freshener 3 | Customize 50 furniture | 1,000 | Detailed-Oriented | Engineer |
| Furniture Freshener 4 | Customize 100 furniture | | | |
| Furniture Freshener 5 | | | | |
| Rough-hewn 1 | Chop 20 wood from trees | 300 | Specific | Producer |
| Rough-hewn 2 | Chop 100 wood from trees | 500 | Aggressive | Problem Solver |
| Rough-hewn 3 | Chop 500 wood from trees | 1,000 | Sharp | Guard |
| Rough-hewn 4 | Chop 2,000 wood from trees | | | |
| Rough-hewn 5 | | | | |
| Trashed Tools 1 | Break 1 tool | 300 | Rascally | Clown |
| Trashed Tools 2 | Break 20 tools | 500 | Overboard | Crusher |
| Trashed Tools 3 | Break 50 tools | 1,000 | Rowdy | Punk |
| Trashed Tools 4 | Break 100 tools | 2,000 | Rough-And-Tumble | Meanie |
| Trashed Tools 5 | Break 200 tools | | | |
| Rock-Splitting Champ | Break a rock (after eating fruit) | 500 | Sports-Minded | Muscle |
| Bona Fide Bone Finder! | Find a fossil | 300 | Discovered | Fossil |
| Fossil Assessment 1 | Get 5 fossils assessed | 300 | Anonymous | Something or Other |
| Fossil Assessment 2 | Get 30 fossils assessed | 500 | Ancient | Truth |
| Fossil Assessment 3 | Get 100 fossils assessed | 1,000 | History-Loving | Researcher |
| Fossil Assessment 4 | Get 300 fossils assessed | | | |
| Fossil Assessment 5 | | | | |
| Greedy Weeder 1 | Pull and sell 50 weeds | 300 | Messy | Lawn Clippings |
| Greedy Weeder 2 | Pull and sell 200 weeds | 500 | Omnivorous | Custodian |
| Greedy Weeder 3 | Pull and sell 1,000 weeds | 1,000 | Herbivorous | Sorter |
| Greedy Weeder 4 | Pull and sell 2,000 weeds | 2,000 | Vigorous | Sprout |
| Greedy Weeder 5 | Pull and sell 3,000 weeds | 3,000 | Wild | Beast |
| Flower Power 1 | Plant 10 flowers | 300 | Greenhouse | Flower |
| Flower Power 2 | Plant 50 flowers | 500 | Thorny | Rose |
| Flower Power 3 | Plant 100 flowers | 1,000 | Heavenly | Rejuvenator |
| Flower Power 4 | Plant 200 flowers | 2,000 | Sweet-Smelling | Blossom |
| Flower Power 5 | Plant 300 flowers | 3,000 | Gorgeous | Groom/Birde |
| Flower Tender 1 | Water 10 flowers | 300 | Refined | Caretaker |
| Flower Tender 2 | Water 50 flowers | 500 | Detailed | Keeper |
| Flower Tender 3 | Water 100 flowers | 1,000 | Careful | Gardener |
| Flower Tender 4 | Water 500 flowers | 2,000 | Caretaking | Ringleader |
| Flower Tender 5 | Water 1,000 flowers | 3,000 | Flower-Loving | Boss |
| Tomorrow's Trees Today 1 | Plant 5 saplings | 300 | Outdoorsy | Defender |
| Tomorrow's Trees Today 2 | Plant 10 saplings | 500 | Organic | Dietitian |
| Tomorrow's Trees Today 3 | Plant 30 saplings | 1,000 | Hay-Feverish | Sneezer |
| Pick of the Bunch 1 | Sell 20 fruit | 300 | Inexperienced | Observationist |
| Pick of the Bunch 2 | Sell 100 fruit | 500 | Precocious | Bounty |
| Pick of the Bunch 3 | Sell 500 fruit | 1,000 | Seasonal | Tree |
| Pick of the Bunch 4 | Sell 1,000 fruit | 2,000 | Mature | Kind |
| Pick of the Bunch 5 | Sell 3,000 fruit | 3,000 | Rotten | Scent |
| Fruit Roots 1 | Plant a Cherry tree | | Twin's | Other Half |
| Fruit Roots 2 | Plant an Orange tree | | Total | Freshman |
| Fruit Roots 3 | Plant a Pear tree | | Unpearable | Pear |
| Fruit Roots 4 | Plant a Peach tree | | Plucky | Star |
| Fruit Roots 5 | Plant an Apple tree | | Crisp | Mr./Ms. Popular |
| Fruit Roots 6 | Plant a Coconut tree | | Tropically Grown | Coconut |
| Go Ahead. Be Shellfish! 1 | Sell 10 shells | 300 | Shell-Grabbing | Shell Fan |
| Go Ahead. Be Shellfish! 2 | Sell 50 shells | 500 | Seashore | Seashell Seller |
| Go Ahead. Be Shellfish! 3 | Sell 200 shells | 1,000 | Shifty | Shellector |
| Go Ahead. Be Shellfish! 4 | Sell 500 shells | 2,000 | Over-Shelled | Shell Master |
| Go Ahead. Be Shellfish! 5 | Sell 1,000 shells | | | |
| Clam and Collected 1 | Dig up 5 clams | 300 | Tidal | Season |
| Clam and Collected 2 | Dig up 20 clams | 500 | Ready | Coast Dweller |
| Clam and Collected 3 | Dig up 50 clams | 1,000 | Buried | Genius |
| Clam and Collected 4 | Dig up 100 clams | 2,000 | Rare | Prodigy |
| Clam and Collected 5 | Dig up 200 clams | 3,000 | Water's Edge | Mermaid |
| Trash Fishin' 1 | Fish up 3 trash items | 300 | Untossable | Trash |
| Trash Fishin' 2 | Fish up 10 trash items | 500 | Eco-friendly | Ecologist |
| Trash Fishin' 3 | Fish up 20 trash items | 1,000 | Waterway | Cleaner |
| Cast Master 1 | Reel in 10 fish in a row, without letting any get away | 300 | Mistakenly Caught | Fish |
| Cast Master 2 | Reel in 50 fish in a row, without letting any get away | 500 | Bait-Snatching | Frenzy |
| Cast Master 3 | Reel in 100 fish in a row, without letting any get away | 1,000 | Wave-Tossed | Life-Form |
| Dream House 1 | Expand your home once | 500 | One-Room | Loner |
| Dream House 2 | Expand your home twice | 1,000 | Single-Occupant | Beginner |
| Dream House 3 | Expand your home five times | 2,000 | Homey | Sentiment |
| Dream House 4 | Expand your home six times | 3,000 | Second-Floor | Landlord |
| Dream House 5 | Expand your home seven times | 5,000 | Basement | Backbone |
| Decorated Decorator | Get an S ranking from the Happy Home Academy | 1,000 | Happy | Overachiever |
| Hoard Reward 1 | Place 5 furniture items in your home at once | 300 | Interior | Sort |
| Hoard Reward 2 | Place 15 furniture items in your home at once | 1,000 | Tentative | Remodeler |
| Hoard Reward 3 | Place 30 furniture items in your home at once | 2,000 | Comparative | Sundries Fan |
| Hoard Reward 4 | Place 100 furniture items in your home at once | | | |
| Hoard Reward 5 | Place 150 furniture items in your home at once | 5,000 | Abounding | Interior-Design Fan |
| Good Things in Store! 1 | Store 20 items in your home | 300 | Overstuffed | Stylist |
| Good Things in Store! 2 | Store 50 items in your home | 500 | Partially Obscured | Talent |
| Good Things in Store! 3 | Store 100 items in your home | 2,000 | At-Capacity | Manager |
| Good Things in Store! 4 | Store 200 items in your home | 3,000 | Self-Possessed | Coordinator |
| Good Things in Store! 5 | Store 300 items in your home | 5,000 | Invulnerable | Life Hacker |
| Remarkable Remodeler 1 | Remodel your house once | 500 | Home | Transformer |
| Remarkable Remodeler 2 | Remodel your house three times | | | |
| Remarkable Remodeler 3 | | | | |
| Smile Isle 1 | Fulfill 1 request for a villager | 300 | Kindly | Standard |
| Smile Isle 2 | Fulfill 10 requests for villagers | 500 | Reliable | Ally |
| Smile Isle 3 | Fulfill 50 requests for villagers | | | |
| Smile Isle 4 | | | | |
| Smile Isle 5 | | | | |
| Reaction Ruler 1 | Learn 1 reaction | 300 | Overacting | Neophyte |
| Reaction Ruler 2 | Learn 10 reactions | 500 | Apprentice | Dancer |
| Reaction Ruler 3 | Learn 20 reactions | 1,000 | Dad-Joking | Semiprofessional |
| Reaction Ruler 4 | Learn 30 reactions | | | |
| Reaction Ruler 5 | | | | |
| Island Shutterbug | Take a photo | 300 | Photogenic | Photographer |
| Edit Credit | Edit your passport | 300 | Future | Traveler |
| NookPhone Life | Use your NookPhone | 300 | Smartphone | Savant |
| That's One Smart Phone | Use your NookPhone a lot | 1,000 | Digital-Age | Child |
| Shop to It 1 | Buy 1 item through Nook Shopping | 300 | Internet | Surfer |
| Shop to It 2 | Buy 20 items through Nook Shopping | 500 | Connected | Reviewer |
| Shop to It 3 | Buy 50 items through Nook Shopping | 1,000 | Widely Accepted | Connector |
| Shop to It 4 | Buy 100 items through Nook Shopping | | | |
| Shop to It 5 | | | | |
| Growing Collection 1 | Add 100 items to your Nook Shopping catalog | 300 | Casual | Materlist |
| Growing Collection 2 | Add 200 items to your Nook Shopping catalog | 500 | Curious | Force |
| Growing Collection 3 | Add 300 items to your Nook Shopping catalog | 1,000 | Greedy | Collector |
| Growing Collection 4 | Add 400 items to your Nook Shopping catalog | 2,000 | Materialistic | Avatar |
| Growing Collection 5 | Add 500 items to your Nook Shopping catalog | 3,000 | Legendary | Walking Dictionary |
| Nook Miles for Miles! 1 | Complete 5 Nook Miles+ tasks | 300 | So-Called | Ground Traveler |
| Nook Miles for Miles! 2 | Complete 50 Nook Miles+ tasks | 500 | Novice | Rookie |
| Nook Miles for Miles! 3 | Complete 200 Nook Miles+ tasks | 1,000 | Wide-Ranging | Hobbyist |
| Nook Miles for Miles! 4 | Complete 1,000 Nook Miles+ tasks | | | |
| Nook Miles for Miles! 5 | | | | |
| First-Time Buyer | Buy your first item | 300 | Full-fledged | Consumer |
| Seller of Unwanted Stuff | Sell your first item | 300 | Down-And-Out | Eventuality |
| Moving Fees Paid! | Pay off your moving fees | 500 | Autonomous | Life |
| Bell Ringer 1 | Spend 5,000 bells | 300 | Invested | Shopaholic |
| Bell Ringer 2 | Spend 50,000 bells | 500 | Thrifty | Family Member |
| Bell Ringer 3 | Spend 500,000 bells | 1,000 | Covetous | Personality |
| Bell Ringer 4 | Spend 2,000,000 bells | | | |
| Bell Ringer 5 | | | | |
| Miles for Stalkholders | Buy turnips from Daisy Mae on Sunday morning | 300 | Weekend | Stalkholder |
| Cornering the Stalk Market 1 | Make 1,000 Bells in profit selling Turnips | 300 | Status-Minded | Speculator |
| Cornering the Stalk Market 2 | Make 10,000 Bells in profit selling Turnips | 500 | Avaricious | Moneybags |
| Cornering the Stalk Market 3 | Make 100,000 Bells in profit selling Turnips | 1,000 | Upstart | Trader |
| Cornering the Stalk Market 4 | Make 1,000,000 Bells in profit selling Turnips | 2,000 | Worldwide | Bellionaire |
| Cornering the Stalk Market 5 | Make 10,000,000 Bells in profit selling Turnips | 3,000 | Shadowy | Fixer |
| No More Loan Payments! | Pay off the first home loan | 1,000 | Responsible | Bill Payer |
| Bulletin-Board Benefit | Post something on the bulletin board | 300 | Rumormongering | Influencer |
| Popular Pen Pal 1 | Send 5 letters | 300 | Art-School | Boy/Girl |
| Popular Pen Pal 2 | Send 20 letters | 500 | Science-y | Student |
| Popular Pen Pal 3 | Send 50 letters | 1,000 | Liberal-Arts | Poet |
| Popular Pen Pal 4 | Send 100 letters | | | |
| Popular Pen Pal 5 | | | | |
| Flea Flicker 1 | Catch 1 flea off of a villager | 300 | Tidy | Wild Child |
| Flea Flicker 2 | Catch 5 fleas off of villagers | 500 | Highly Aware | Neatnik |
| Flea Flicker 3 | Catch 10 fleas off of villagers | | | |
| (TBD) | | | | |
| Netting Better! | Catch 5 wasps in a row without getting stung | 1,000 | Accurate | Deadeye |
| (TBD) | | | | |
| Taking the Sting Out | Get stung by wasps twice, causing you to faint | 300 | Teary-eyed | Crybaby |
| Faint of Heart | Get attacked by a tarantula or scorpion | 300 | Risen | Phoenix |
| (TBD) | | | | |
| Lost Treasure | Shoot down a balloon and have it fall into water | 500 | Catchable | Klutz |
| It's Raining Treasure! 1 | Shoot down 5 balloons | 300 | Easy-breezy | Slingshot Ace |
| It's Raining Treasure! 2 | Shoot down 20 balloons | 500 | Atmospheric | Floaty Thing |
| It's Raining Treasure! 3 | Shoot down 50 balloons | 1,000 | Restless | Hunter |
| It's Raining Treasure! 4 | Shoot down 100 balloons | 2,000 | Flying | Paradise |
| It's Raining Treasure! 5 | Shoot down 300 balloons | | | |
| Fun with Fences | Place 20 fences | 500 | Efficient | Partitioner |
| (TBD) | | | | |
| Wishes Come True 1 | Wish on a shooting star once | 300 | Late-Night | Meteorite |
| Wishes Come True 2 | Wish on a shooting star 30 times | 1,000 | Wishful | Legend |
| Wishes Come True 3 | Wish on a shooting star 200 times | 2,000 | Overnight | Superstar |
| Exterior Decorator | Place 10 pieces of furniture outdoors | 300 | Outdoor-Loving | Decorating Fiend |
| (Town Name) Icons 1 | Change the island flag | 500 | Flapping | Flag Waver |
| (Town Name) Icons 2 | Change the town tune | 500 | Humming | Musician |
| Island Designer 1 | Lay down paths | 500 | Trailblazing | Runner |
| Island Designer 2 | Terraform water | 1,000 | Swept-Away | Pioneer |
| Island Designer 3 | Terraform cliffs | 1,000 | Cliffhanging | Creator |
| Wispy Island Secrets 1 | Help Wisp once | 300 | Cowardly | Ghost |
| Wispy Island Secrets 2 | Help Wisp 10 times | | | |
| Wispy Island Secrets 3 | | | | |
| Gulliver's Travails 1 | Help Gulliver once | 300 | Flightless | Fowl |
| Gulliver's Travails 2 | Help Gulliver 10 times | | | |
| Gulliver's Travails 3 | | | | |
| ManiaKK 1 | See a K.K. Slider show once | 300 | Fickle | Music-Lover |
| ManiaKK 2 | See a K.K. Slider show 10 times | | | |
| ManiaKK 3 | | | | |
| ManiaKK 4 | | | | |
| ManiaKK 5 | | | | |
| True Friends 1 | Have a "good relationship"" with one villager" | 300 | Soothing | Pal |
| True Friends 2 | Have a "good relationship"" with two villagers" | 500 | Friendly | Buddy |
| True Friends 3 | Have a "good relationship"" with three villagers" | 1,000 | Friendship | Seeker |
| Birthday Celebration 1 | Celebrate 1 villager's birthday | 300 | Untamed | Party Animal |
| Birthday Celebration 2 | Celebrate 10 villagers' birthdays | | | |
| Birthday Celebration 3 | | | | |
| Happy Birthday! | Celebrate your birthday in-game | 2,000 | Celebratory | Birthday Boy/Girl |
| Fishing Tourney! 1 | Participate in the Spring Fishing Tourney | | | |
| Fishing Tourney! 2 | Participate in the Summer Fishing Tourney | 300 | Summer-Born | Chiller |
| Fishing Tourney! 3 | Participate in the Fall Fishing Tourney | | | |
| Fishing Tourney! 4 | Participate in the Winter Fishing Tourney | | | |
| Bug-Off! 1 | Participate in the Bug-Off 1 time | 300 | Adolescent | Youngster |
| Bug-Off! 2 | | | | |
| Bug-Off! 3 | | | | |
| Bug-Off! 4 | | | | |
| (TBD) | | | | |
| Making a Change | Use a closet to change outfits | 500 | Trendy | Model |
| First Custom Design! | Create a Custom Design | 500 | Aspiring | Artist |
| Custom Design Pro! | Create a Pro Custom Design | 300 | Pro | Designer |
| Paydirt! | Dig up buried bells from a glowing spot | 300 | Lucky | Type |
| Shady Shakedown 1 | Shake a piece of furniture out of a tree | 300 | Carefree | Figure |
| Shady Shakedown 2 | Shake 10 pieces of furniture out of trees | 1,000 | Jovial | Brute |
| Shady Shakedown 3 | Shake 20 pieces of furniture out of trees | | | |
| Shady Shakedown 4 | | | | |
| Shady Shakedown 5 | | | | |
| Golden Milestone 1 | | | | |
| Golden Milestone 2 | | | | |
| Golden Milestone 3 | | | | |
| Golden Milestone 4 | | | | |
| Golden Milestone 5 | Get a Golden Axe | 300 | Glittering | Emperor/Empress |
| Golden Milestone 6 | | | | |
| Island and Yourland 1 | Visit another players' island once | 300 | Traveling | Person |
| Island and Yourland 2 | Visit another players' island 5 times | 500 | Occasional | Tourist |
| Island and Yourland 3 | Visit another players' island 10 times | 1,000 | Global | Wanderer |
| Host the Most 1 | Host 1 person on your island | 300 | Hospitable | Friend |
| Host the Most 2 | Host 5 people on your island | 500 | Lonely | Chum |
| Host the Most 3 | Host 10 people on your island | 1,000 | Well-Known | Partier |
| Active Island Resident 1 | Play for three days | 300 | Self-paced | Chill Soul |
| Active Island Resident 2 | Play for 20 days | 500 | Active | Specialist |
| Active Island Resident 3 | Play for 50 days | 1,000 | Sleepless | Adventurer |
| Active Island Resident 4 | Play for 100 days | | | |
| Active Island Resident 5 | | | | |
Nook Miles+
Nook Miles
Reward
Sell a hot item
200
Catch a specific bug
200/400
Catch a specific fish
200-400
Get three fossils assessed
150
Spend 500 Nook Nook Miles
200
Sell 10 shells
200
Spend 5,000 Bells on buying items
200
Catch five fish
150
Catch five bugs
150
Water eight flowers
100
Plant three flowers
100
Hit a rock five times
100
Shoot down a balloon
200
Plant one sapling
100
Plant one fruit tree
100
Talk to three villagers
200
Sell items for 5,000 Bells
150
Sell five fruit
100
Make three DIY items
150
Chop down a tree
200
Chop 10 wood
150
Change your outfit using your closet
150
Take a photo
100
Customize two items
150