Here you can find a list of Tools, Furniture, House Decorations, Clothing and even Equipment you can make using DIY Crafting in Animal Crossing New Horizons. Since most things in this game will be crafting using DIY recipes found in the game its important you become familiar with what you can make and what you will need to buy.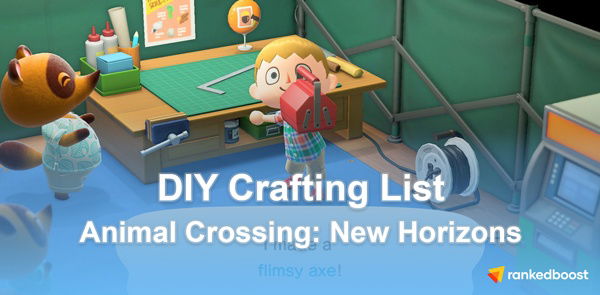 How To Get DIY Recipes in ACNH
There are various methods players can use to learn new DIY Recipes in ACNH, below we will list with little more detail on how to unlock even more Crafting Recipes.
Message in a Bottle – These are found randomly on the beach.
Nook Stop – You can purchase even more DIY Crafting Recipes from the Nook Stop.
Tom Nook – You will receive many recipes from Tom Nook after certain condition are met.
Below is a list of Animal Crossing New Horizons DIY Recipes and how to get or unlock each one.
DIY Crafting Recipe List
Below the list will detail various information about each recipe, for example you may what to make certain items and sell them for Bells. If this is the case we went ahead and list the Sell Price of these items, we also have information on how to find the recipe as some will require that certain conditions are met. For example, Messages in a Bottle can be found randomly spawning near the beach, or in the case of the Ladder you will receive the Recipe from Tom Nook after placing you second house plot.