Welcome to our guide on bugs in Animal Crossing New Horizons, in this guide you will learn how to catch bugs, where to find them and what to do with them.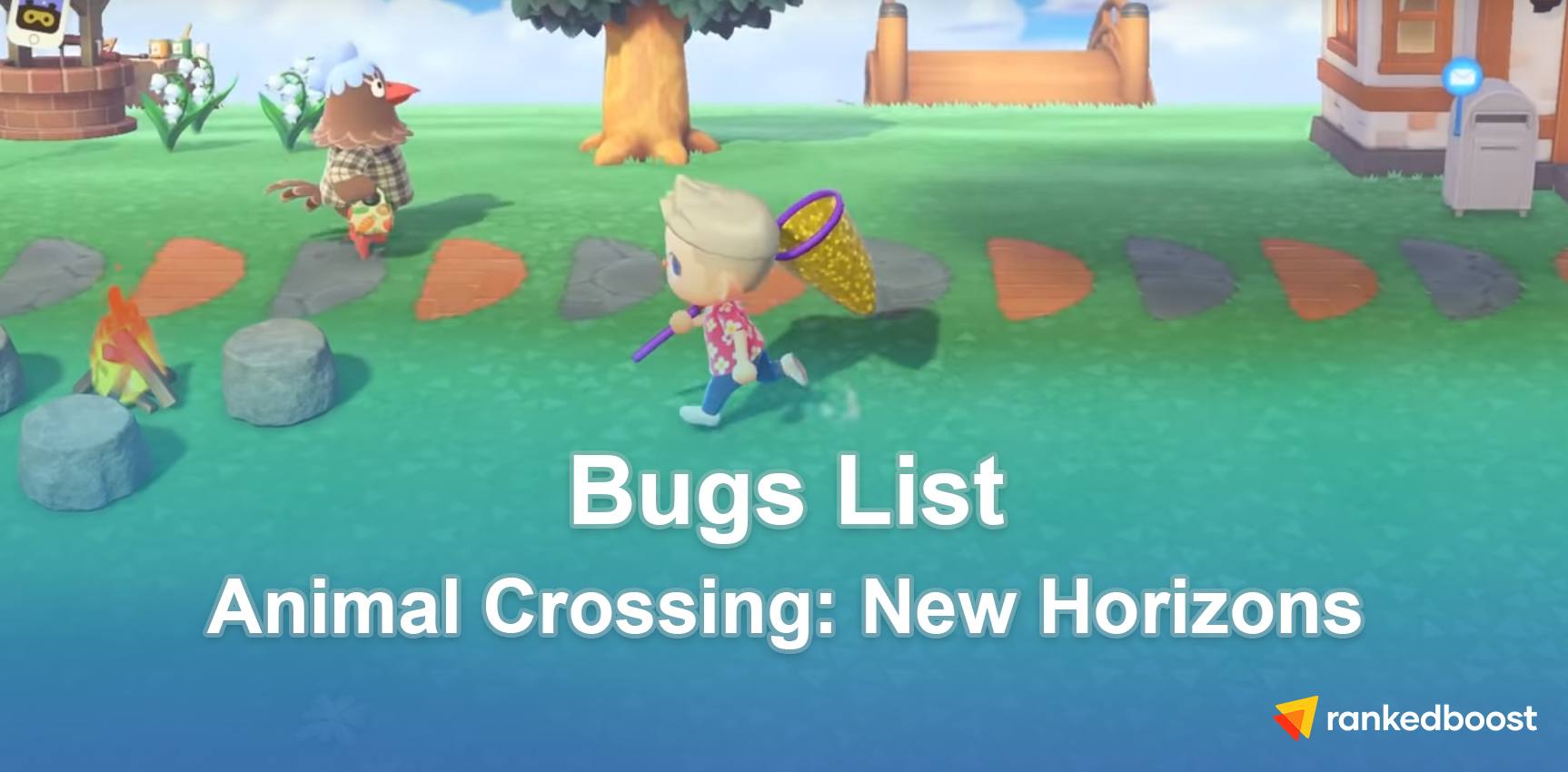 How to catch bugs in ACNH
If you want to catch bugs in animal crossing new horizons you would need a net; certain bugs will only appear at certain times of the day and parts of the year, for example, May, July, October, etc. It's also worth noting that you can change the time of the year in ACNH by adjusting your Nintendo Switch Date/Time.
Tip: Some bugs are jumpier than others, so you will need to ready your net and approach slowly.
To build a flimsy net, you will need five tree branches which you can get from shaking trees; you can get as many branches as you want from one tree as long as there is space for them to fall.
Recipe
Materials Needed
Obtained From

Flimsy net

100

Tools

Tom Nook (first DIY workshop)
How To Make a Golden Net for Catching Bugs
These are all the things you can do with bugs.
Capture bugs and put them in a Museum
You can sell them for Bells
You can use them as Furniture/Decoration
You can give them to Villagers
Where to find bugs in Animal Crossing New Horizons
Bugs will spawn in different locations and environments. They can spawn inside trees, around rivers, on flowers, and even rocks. Depending on the time of day and light sources around also dictate which bugs spawn. Be sure you keep trees, flowers and stumps around to get the most out of your bug population.
This list of bugs will help you find the time of day, season, and even weather when bugs spawn.
Price
Time
Location
Season / Month



Common Butterfly

160
4am - 7pm
On Flowers

N:

January

February

March

Aprill

May June

September

October

November

December


S:

March

Aprill

May

June

July

August

September

October

November

December




Yellow Butterfly

160
4am - 7pm
Flying

N:

March

Aprill

May

June

September

October


S:

March

Aprill

September

October

November

December




Tiger Butterfly

240
4am - 7pm
Flying

N:

March

Aprill

May

June

July

August

September


S:

September

October

November

December

January

February

March




Peacock Butterfly

2,500
4am - 7pm
On Purple, Black and Blue Flowers

N:

March

Aprill

May

June


S:

September

October

November

December




Common Bluebottle

4am - 7pm
Flying

N:

Aprill

May

June

July

August


S:

October

November

December

January

February




Paper Kite Butterfly

1,000
8am - 7pm
Flying

N:

Any month


S:

Any month




Great Purple Emperor

4am - 7am
Flying

N:

May

June

July

August


S:

November

December

January

February




Monarch Butterfly

140
4am - 5pm
Flying

N:

September

October

November


S:

March

Aprill

May




Emperor Butterfly

4,000
5pm - 8am
Flying

N:

January

February

March

June

July

August

September

December


S:

January

February

March

June

July

August

September

December




Agrias Butterfly

3,000
8am - 5pm
Flying

N:

Aprill

May

June

July

August

September


S:

October

November

December

January

February

March




Rajah Brooke's Birdwing

2,500
8am - 5pm
On Purple, Black and Blue Flowers

N:

December January

February

Aprill

May

June

July

August

September


S:

June

July

August

October

November

December

January

February

March




Queen Alexandra's Birdwing

4,000
8am - 4pm
Flying

N:

May

June

July

August

September


S:

November

December

January

February

March

April




Moth

130
7pm - 4am
Around Light

N:

Any month


S:

Any month




Atlas Moth

7pm - 4am
N/A

N:

Aprill

May

June

July

August

September


S:

October

November

December

January

February

March




Madagascan Sunset Moth

2,500
8am - 4pm
Flying

N:

Aprill

May

June

July

August

September


S:

October

November

December

January

February

March




Long Locust

200
8am - 7pm
In Grass

N:

Aprill

May

June

July

August

September

October

November


S:

October

November

December

January

February

March

Aprill

May




Migratory Locust

200
8am - 7pm
In Grass

N:

August

September

October

November


S:

February

March

Aprill

May




Rice Grasshopper

1,600
8am - 7pm
In Grass

N:

August

September

October

November


S:

February

March

Aprill

May




Grasshopper

160
8am - 5pm
In Grass

N:

July

August

September


S:

January

February

March




Cricket

130
5pm - 8am
In Grass

N:

September

October

November


S:

March

Aprill

May




Bell Cricket

5pm - 8am
In Grass

N:

September

October


S:

March

April




Mantis

430
8am - 5pm
On Flowers

N:

March

Aprill

May

June

July

August

September

October

November


S:

September

October

November

December

January

March

April




Orchid Mantis

2,400
8am - 5pm
On Flowers

N:

March

Aprill

May

June

July

August

September

October

November


S:

September

October

November

December

January

February

March

Aprill

May




Honeybee

200
8am - 5pm
On Flowers

N:

March

Aprill

May

June

July


S:

September

October

November

December

January




Wasp

2,500
Anytime
Shaking Trees

N:

Any month


S:

Any month




Brown Cicada

250
8am - 5pm
On Trees

N:

July

August


S:

January

February




Robust Cicada

8am - 5pm
On Trees

N:

July

August


S:

January

February




Giant Cicada

8am - 5pm
On Trees

N:

July

August


S:

January

February




Walker Cicada

400
8am - 4pm
On Trees

N:

August

September


S:

February

March




Evening Cicada

4am - 8am & 4pm - 7pm
On Trees

N:

July

August


S:

January

February




Cicada Shell

Anytime
On Trees

N:

July

August


S:

January

February




Red Dragonfly

180
8am - 7pm
Flying

N:

September

October


S:

March

April




Darner Dragonfly

230
8am - 5pm
Flying

N:

Aprill

May

June

July

August

September

October


S:

October

November

December

January

February

March

April




Banded Dragonfly

4,500
8am - 5pm
Flying

N:

May

June

July

August

September

October


S:

November

December

January

February

March

April




Damselfly

500
Anytime
Flying

N:

November

December

January

February


S:

May

June

July

August




Firefly

300
7pm - 4pm
On Freshwater

N:

June


S:

December




Pondskater

130
8am - 7pm
In Rivers

N:

May

June

July

August

September


S:

November

December

January

February

March




Diving Beetle

800
8am - 7pm
In Rivers

N:

May

June

July

August

September


S:

November

December

January

February

March




Giant Water Beetle

7pm - 8am
N/A

N:

Aprill

May

June

July

August

September


S:

January

February

March

October

November

December




Stinkbug

120
Anytime
On Trees

N:

March

Aprill

May

June

July

August

September

October


S:

September

October

November

December

January

February

March

April




Man-faced Stink Bug

1,000
7pm - 8am
On Flowers

N:

March

Aprill

May

June

July

August

September

October


S:

September

October

November

December

January

February

March

April




Ladybug

200
8am - 5pm
On Flowers

N:

March

Aprill

May

June

October


S:

Aprill & September

October

November

December




Tiger Beetle

240
Anytime
Flying

N:

February

March

Aprill

May

June

July

August

September

October


S:

September

October

November

December

January

February

March




Jewel Beetle

Anytime
On Trees

N:

Aprill

May

June

July

August


S:

October

November

December

January

February




Citrus Long-horned Beetle

350
Anytime
On Tree Stumps

N:

Any month


S:

Any month




Rosalia Batesi Beetle

3,000
Anytime
On Tree Stumps

N:

May

June

July

August

September


S:

November

December

January

February

March




Blue Weevil Beetle

Anytime
On Trees

N:

July

August


S:

January

February




Violin Beetle

450
Anytime
On Trees

N:

May

June

September

October

November


S:

March

Aprill

May

November

December




Dung Beetle

Anytime
On Ground

N:

December

January

February


S:

June

July

August




Earth-boring Dung Beetle

300
Anytime
On Ground

N:

July

August

September


S:

January

February

March




Scarab Beetle

11pm - 8am
On Trees

N:

July

August


S:

January

February




Drone Beetle

200
Anytime
On Trees

N:

June

July

August


S:

December

January

February




Goliath Beetle

5pm - 8am
On Trees

N:

June

July

August

September


S:

December

January

February

March

April




Saw Stag

Anytime
On Trees

N:

July

August


S:

January

February




Miyama Stag

Anytime
On Trees

N:

July

August


S:

January

February




Giant Stag

11pm - 8am
On Trees

N:

July

August


S:

January

February




Rainbow Stag

7pm - 8am
On Trees

N:

June

July

August

September


S:

December

January

February

March




Cyclommatus Stag

5pm - 8am
On Trees

N:

July

August


S:

January

February




Golden Stag

5pm - 8am
On Trees

N:

July

August


S:

January

February




Giraffe Stag

5pm - 8am
On Trees

N:

July

August


S:

January

February




Horned Dynastid

5pm - 8am
On Trees

N:

July

August


S:

January

February




Horned Atlas

5pm - 8am
On Trees

N:

July

August


S:

January

February




Horned Elephant

5pm - 8am
On Trees

N:

July

August


S:

January

February




Horned Hercules

5pm - 8am
On Trees

N:

July

August


S:

January

February




Walking Stick

4am - 8am & 5pm - 7pm
Shaking Trees

N:

July

August

September

October

November


S:

January

February

March

Aprill

May




Walking Leaf

600
Anytime
On Ground (Beneath Trees)

N:

July

August

September


S:

January

February

March




Bagworm

600
Anytime
On Trees

N:

Any month


S:

Any month




Ant

80
Anytime
On Rotten Turnips and Fruit

N:

Any month


S:

Any month




Hermit Crab

1,000
7pm - 8am
On Beach

N:

Any month


S:

Any month




Wharf Roach

Anytime
On Beach (Rocks)

N:

Any month


S:

Any month




Fly

Anytime
On Rotten Food and Garbage

N:

Any month


S:

Any month




Mosquito

130
5pm - 4am
Flying

N:

June

July

August

September


S:

December

January

February

March




Flea

70
Anytime
On Flea-Infested Villagers

N:

Aprill

May

June

July

August

September

October

November


S:

October

November

December

January

February

March

Aprill

May




Snail

250
Anytime
Under Rocks

N:

Any month


S:

Any month




Pill Bug

250
11pm - 4pm
Under Rocks

N:

September

October

November

December

January

February

March

Aprill

May

June


S:

March

Aprill

May

June

July

August

September

October

November

December




Centipede

430
5pm - 11pm
Under Rocks

N:

September

October

November

December

January

February

March

Aprill

May

June


S:

March

Aprill

May

June

July

August

September

November

December




Spider

600
7pm - 8am
Shaking Trees

N:

Any month


S:

Any month




Tarantula

8,000
7pm - 4am
On Ground

N:

November

December

January

February

March

April


S:

May

June

July

August

September

October




Scorpion

7pm - 4am
On Ground

N:

May

June

July

August

September

October


S:

November

December

January

February

March

April